The Third Annual Engineering Club Carnival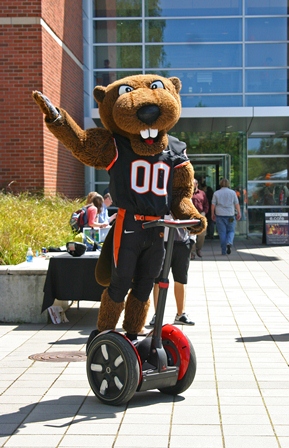 What: The third annual Engineering Club carnival. We will have food, and club run/sponsored booths to give back to the community and raise awareness for the Linn-Benton Food bank and engineering.
Where: In and around the Kelley Engineering Center
When: May 29th 2014
Who: All Engineering Student Clubs are invited to host a booth. Everyone is invited!
Why: The ENGR Carnival is an event to raise awareness and gather donations for the Linn-Benton Food Bank. Additionally it is a chance for all students and OSU community members to come celebrate the end of the school year!
How Does it Work?:
Each engineering club has developed a booth for the carnival. Patrons participate in each booth and as a prize are able to win a raffle ticket for one of the various prizes for the carnival (except food booths). Some booths may even have prizes of their own. Patrons put their raffle tickets into the raffle bowl after clearly printing their email on the back. The raffle is done at the end of the night, you do not need to be there to win.
To get play tickets, patrons are asked to donate cans of food or dollars at the ticket booth (1 can/dollar per ticket). When donating, patrons are asked to which department they want to add their donation. At the end of the carnival, the department with the most donations gets kudos.
Games so far:
Dunk Tank: Hosted by IEEE
Come dunk a professor! Various professors will be on hand during the carnival to take their turn in the tank. Check the schedule board to see who is up when! Also, <!a href='http://groups.engr.oregonstate.edu/ieee/web/dunk-tank-2013/'>vote for the faculty you would like to see most in the tank!
Previous Years Booths:
Solar Car Photo Booth: Hosted by OSU Solar Vehicle Team
Come get your picture taken INSIDE of the current OSU Solar Vehicle Team's race-ready solar car!
Dart Toss: Hosted by Society of Hispanic Professional Engineers
How good are your dart skills? Come pop the balloon to win a prize!
Corn Hole: Hosted by American Society of Civil Engineers
A board, a hole, some bags of corn... How well can you play Corn Hole?
War for Water: Hosted by Engineers with out Borders
Fight a tug of war over a circle of water, the loser gets wet and the winner gets the ticket.
Bean Bag Toss: Hosted by the CBEE Club

Molecule Stacking: Hosted by the CBEE Club
Can you stack the molecules in under a minute?
Brain Teaser Challenge: Hosted by Engineers with out Borders
Test your wits and win tickets.
Spaghetti and Marshmallow Buildings: Hosted by Associated General Contractors
Who can build the tallest/strongest structure in the allotted time?
Free Throw Shootout: Hosted by ASME
Make the most free throws in 30 seconds and win!
LEGO Racers: Hosted by ITE
Test your car building skills in a head to head race to win a raffle ticket!
Cans & Bottles Bowling: Hosted by Phi Sigma Rho

Ticket Booth: Hosted by IEEE
This booth will exchange your donations for 'play tickets' letting you participate in all of the fun!
This year's carnival is on May 29th, 2014!, Contact Us to submit your clubs idea for a game, booth, or event at the carnival